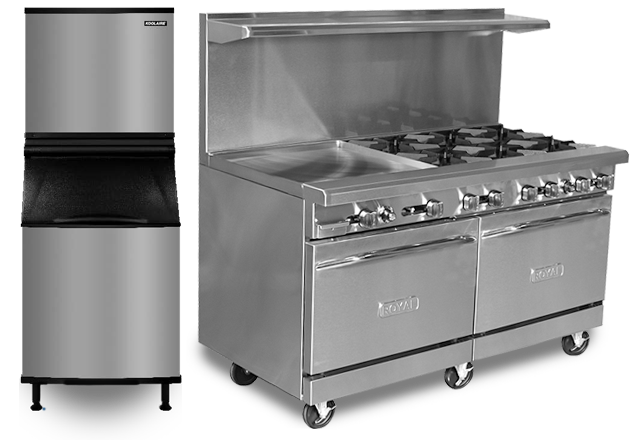 Low Monthly Payments
We offer monthly payments that range from 12 to 60 months. We'll offer you a plan that's best fit for your business. Unlike bank loans and many businesses, you can match monthly payments to current cash flow requirements. If your business is a startup, you can get your startup approved for financing.
No Obligation Credit Application
Our credit application is no obligation. We make financing quick and easy. We give you your approval status in less than 30 seconds and then you're free to purchase new equipment. You'll have a financing package tailored just for you. It's that easy.
Consider This: Help Your Business Grow
Great Return on Investment
Consider that financing with Houston Ice Machine ensures you a quality product that can generate you revenue before your first due payment.
Variable Payments
We offer low monthly payments plans tailored to your business. Upon request, we offer variable payments* that can be matched to seasonal cash flow variations.
Accounting Advantages
We provide financial reporting avantages. Your payments can be structured to meet FASB requirements for off balance sheet accounting.
100% Tax Deductible
Deduct the full purchase price* of your equipment as you pay for it! IRS Tax codes allow businesses to deduct equipment being financed before the equipment is paid off.
No Surprises
Avoid bank restrictions. Avoid loan surprises including compensating balance requirements, rate escalator clauses, blanket liens, "call anytime" provisions and restrictive covenants.
Keep Potential Lines of Credit Open
With Houston Ice Machine, you can build your business credentials and credit, and keep potential lines of credit open for financial emergencies.
*Terms and conditions may vary, depending on your specific situation.
Our Credit Application Advantages
Get quick approval without extensive financing statements.
Deduct payments while taking advantage of tax benefits.
Get your startup approved for financing.
You can get approved with low credit score.
You can get approved with a bankruptcy.
Defer payments until your equipment is fully installed.
With us, you have ownership options at the end of the term.
With us, you can avoid financial reporting.
You can have no down payment or cash outlay.
You can match monthly payments to your current cash flow requirements.
Easy Credit Application with Houston Ice Machine
Fill out our quick credit application.
You'll receive a verification call to review your financing package tailored just for you.
We'll email the documents to you where you can sign and return them all online. With us, there's no more need for tiresome paperwork or faxing documents back and forth!
And then, you're done! Please be expecting a phone call around the time of delivery.

Logic of Financing
Finance vs. Credit Card Purchase vs. Bank Loan
Financing your equipment or software purchase is a smart payment option for your business.
Which method is right for you?
| Can I …? | Financing | Credit Card | Bank Loan |
| --- | --- | --- | --- |
| Acquire equipment easier and for less? | YES | NO | NO. Most banks require a large down payment. |
| Upgrade or add equipment without difficulty? | YES | NO | NO. Most banks require reapplication for another loan. |
| Match payments to your current cash flow? | YES | NO | NO |
| Avoid affecting your bank lines of credit? | YES | NO | NO. In fact, they will be affecting it a great deal. |
| Customize your plan or even defer payments? | YES | NO | NO. |
| Get approved for financing in one day? | YES | NO | NO. It could take days or even weeks. |